As you can see, some bloggers have been reading my posts for some time now. I admit, however, to writing on two blogs. In one site; I am Chelsea Owens, freelance blogger for my own whims and devices. I have a registered URL, I pay an annual fee, and I respond to people commenting on my garbage.
The other life is lived on James Edgar Skye, where I go by the alias of …Chelsea Owens, and am guilty of indulging in every idea regarding mental illness my personal experience allows for.
Whether either of these lives has a future or not, is irrelevant.
Part of me believes that I'm wasting my time writing about this, but I believe you wish to understand a few things. I'm willing to write a parody of a Matrix interrogation scene, give new visitors a fresh start on navigating; and all I'm asking is your cooperation in following along with my winding train of thought.
At some point in the blogging process, I was followed by Skye. Many of my posts before that point touched on mental issues; say, like futility involving procrastination, frustrations involving housework and an inattentive husband, or poetic breakdowns inside my head.
I've noticed a personal decrease in posts involving mental conditions since contributing a few posts in my other site. Perhaps those who find me over here, from there, are disappointed. Advice regarding blogs is usually to keep to only one subject.
I'd hate, however, for readers to experience déja-vu.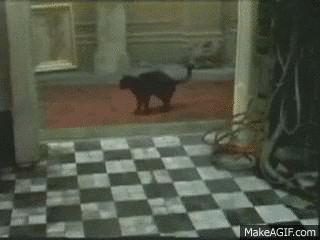 via GIPHY
That, and I want to write without limits; "without rules or controls, borders or boundaries." I aim to create in "a world where anything is possible."
And that, confused followers, is why you will find such a hodgepodge of expression over here.
"I don't know the future. I didn't come here to tell you how this is going to end. I came here to tell you how it's going to begin. …Where we go from there is a choice I leave to you."
The real world is a place of myriad lifestyles, environments, perspectives, and ages. Even our personal mindset evolves over time. Variety is more than a spice of life; it's the constant throughout our lives.
So, go on; have some variety.
And keep reading.
All quotes and parody material obsequiously taken from The Matrix.