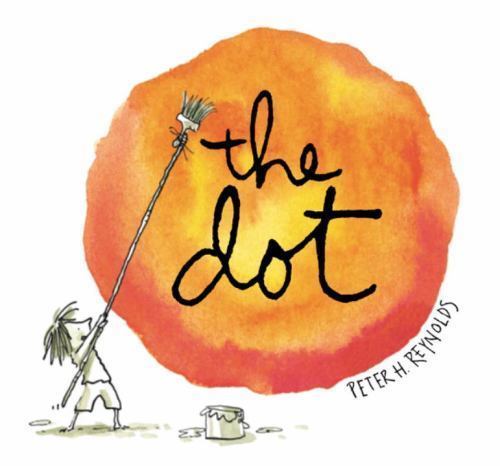 Whilst considering my favorite children's books, I realized that most made the list based on favorites of my childhood. Not to become set in my old ways, however, I have found several excellent additions in seeking out books for the children I have since produced.
Such is the case with The Dot, by Peter H. Reynolds.
It tells the very simple story of a young girl named Vashti who is determined that she cannot do art. Her teacher, meanwhile, is just as certain that Vashti can.
I love how we get an idea of the personalities of the characters in a few lines of actions: Vashti's practical stabbing of a dot onto paper shows her attitude, and her teacher's encouragement and action of framing that first dot demonstrate understanding.
Teaching is, and has always been, a career plagued by under-appreciation. Teachers are responsible for connecting with a classroom or more of children, dumping information into little brains, and somehow still maintaining order. They also care for their students, cry about poor life situations, and think about hundreds to thousands of past lives they've been touched by.
The Dot is not just about a young girl finding courage to express herself. It is also the story of what every teacher aims for: a lesson learned, a life improved, and the benefits passed on to others.
It's short, simple, sweet, artistic, and touching. If you haven't, spend a minute reading it. Since it's more recent, I even found readings of it online.