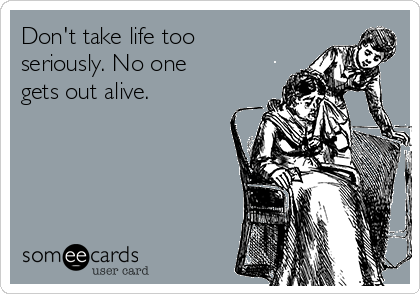 Where do we go when we die? Is there only a here, a hereafter, or heresy?
In my religion of raising, I was taught an elaborate outline of eternity. Don't worry; I won't go into the details and bring out all the flip-charts and what-not. It sufficeth me to say that I was taught of a continued existence, one of retained Earthly knowledge and experiences that will lead to rewards based on behavior -and potential for eventual godhood.
It's a pretty awesome concept.
Problem is, you know… stuff like no evidence. I am a very logic-driven person where hormones are not involved. I agree with non-religious peoples that nothing after death makes a lot of sense. I agree that tests, wherein people die in order to tell a waiting group about life after death, are unsuccessful. I agree that bodies decompose and Egyptian pharaohs never took their gold with them to the afterlife and that most humans do not see dead people.
I'm just a little hung up on those who have had visions, on stories of people coming back from Death's door, and on personal spiritual experiences.
Not all of those who exhibit faith are crazy. Many of my neighbors are level-headed and intelligent. They pray, and speak about knowing that life after death is true.
For me, my most major of quandaries is how special human beings are. We are inventive, able to learn, intelligent (overall), social, observant, dynamic, versatile, etc. Most of all, we are self-aware. I am self-aware.
I just can't get around the idea of absolute non-existence after dying because of my logical sentience.
Wishful thinking? I hope not. I hope this life is not all there is because that is a very limited time, indeed.
What about someone whose life really sucks? What about a guy born into ignorance and poverty, who lives as a slave his whole life and dies from tapeworm at age 15? What kind of existence was that?
Are we but dust in the wind? Or, do we contain the essence of eternity?
Whilst we ponder on this lightweight topic, I'll post what I did for the past week:
Wednesday, November 28: Oh My Flippin' Heck, thoughts and a query into how acceptable cussing in literature can be.
Thursday, November 29: Skinwalkers, XLIII
Friday, November 30: Winner of The Third Weekly Terrible Poetry Contest announced. Congratulations at last, Bruce.
Saturday, December 1: Beginning of The Fourth Weekly Terrible Poetry Contest (Post a poem!).
Also, The Festival of Trees, with Children, a boring account of a neat event (with pictures).
Sunday, December 2: The Black Hole Beyond, a flash fiction entry for Carrot Ranch Literary Community.
Monday, December 3: Wilhelmina Winters, Seventy-Four,
and The Children's New Clothes over at my motherhood site. I had a lot of fun writing this one, though not as much fun sorting laundry.
Tuesday, December 4: Inspirational Quote by Martin Luther King, Jr.
Wednesday, December 5: This post.