I realized that somewhere near …July June 25 I became lost in life and was not able to keep up with my regular blog reading. Instead of conceding defeat, I kept telling myself I would catch up. The same happened with writing my own posts. In fact; the same happened with the housework, meal plans, summer schedules, vacation plans, homework, etc.
I should have just closed shop for the summer.
The main problem has been my children, both those out of me and the one in me. I've had enough on my plate trying to motivate and manage myself. After First Bathroom stop, First Breakfast, Second Bathroom Stop, Second Breakfast, and showering; the day's nearly half over and I realize I ought to get the boys out of bed and doing activities.
For their part, they're just fine sleeping in and playing all day. I'd be fine with that, too, if it weren't for the dishes' habit of piling up when The Magic Fairy doesn't wash them. That lazy Fairy's neglected everything from yard work to laundry to budgeting since I became impregnated.
It's like she's hoping to get fired or something.
So, I'm sorry. I'm sorry for not posting regularly. I'm sorry for not reading regularly. I'm sorry for how boring I've been, complaining about a situation that SUCKS BECAUSE I'VE BEEN CONSTANTLY SICK SINCE MID-APRIL.
My creativity is shot. It's lying on the ground with several empty bags of snack food and the remains of the clothing that I can't wear anymore. And curled up on the pile by 1:00 p.m. every day is my current energy level.
I think I'm dreaming of about a year from now…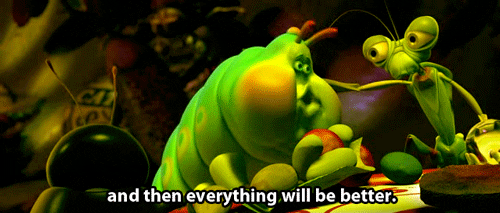 —————-
Still, I kind-of wrote stuff this past week:
Wednesday, July 17: "Frilled Shark, a terrible poem."
Thursday, July 18: "The Strangest Pregnant Animal Ever." This was the last in a series of pregnant animal poems, in tribute to the Terrible Poetry theme for that week.
Friday, July 19: Winner of the Weekly Terribly Poetry Contest. Congratulations to Peregrine Arc!
Saturday, July 20: Announced the 35th Weekly Terrible Poetry Contest. The theme is a limerick of poets who take themselves way too seriously. PLEASE ENTER!
Sunday, July 21: Answered Kevin's questions with "Sunshine, Lollipops, and Blogger 'Awards.'"
Monday, July 22: An inspirational quote from Kira's site.
Tuesday, July 23: Nothing!
Wednesday, July 24: Today. Happy Pioneer Day from my home state.
I also posted all this week at my motherhood site. I wrote "Stop and Smell the Bindweed," "Everyone Needs to Get Messy, Especially Kids," and "A Parent's Poetic Lament."
©2019 Chelsea Owens