I'm not certain what time I awoke this morning. We'd all stayed up late watching Monty Python and the Holy Grail. We tend to save shows we don't want the children repeating for times when they're out of school.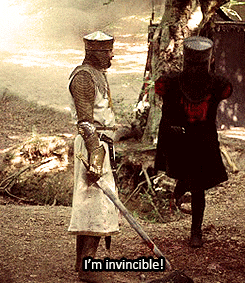 A Twofacebook friend posted a re-posted snippet from a doctor in NY or somesuch. It was an amusing bit despite the message, because the author introduced horrible traits of COVID-19 with specific, sometimes humorous examples. I could not find the darned thing in searching for it this evening; sorry. One of my friend's commenters suggested the article was in error because the author said COVID is airborne and WHO says it is not.
Two interesting articles: WHO's statement, and a story about a choir group infecting each other despite washing hands and not hugging.
Last week marked my birthday and one of my children's. Our traditions usually include the birthday person choosing his dinner and cake, apart from suggesting presents he'd like. I also prepare and present the birthday person with breakfast in bed. Since all of those activities required food, I placed an online order with our local shop …then discovered they were three days out in being able to prepare it.
Another child's birthday approaches this Saturday, so I just finished an online order for his requests. Yes, the store is now booked out till Friday. I intend to dilute the remaining milk with some of our (expired) powdered variety.
My order is for fresh items we can't store, like bananas, and some cake decorations.
Like most of you, I find my irregular drives to be surreal experiences. Yesterday's post office run took me past empty restaurant parking lots that advertised drive-up or delivery options STILL AVAILABLE. Twofacebook friends lament cancelled concerts or Spring Break trips. I receive the occasional e-mail update about this dentist now closing, or this doctor or this specialist I haven't been to in five years anyway. It's good to know I can't go, if I miss them.
Despite the doom and gloom, I feel an overwhelming level of community support and love. There are still idiots, naturally. There are selfish acts and short-sighted people. Overall, however, we're sticking it out for the greater good.
Utah's governor issued a 'Stay Home, Stay Safe' directive. Our Salt Lake County Mayor issued a 'can smack you if you break these new suggestions' directive. Our county has the highest number of cases, but we're also the most populous and densely-packed area in little ol' Utah.
I'm realizing that the long-term plan is for us all to be exposed at some point, but in a spread out manner. We can't turn off the world forever.
But that world keeps turning. I keep turning on it, in my tiny corner and in my tiny world. So, I hold my boys when the panic hits. I hold a handful of chocolate chips sometimes, too. I tell my mother I love her. I tell my relatives with anxiety to not panic. I tell my relative doing his medical residency that we'll pray for him. And, like everyone else, I wonder when we'll return to whatever normal might be.
©2020 Chelsea Owens