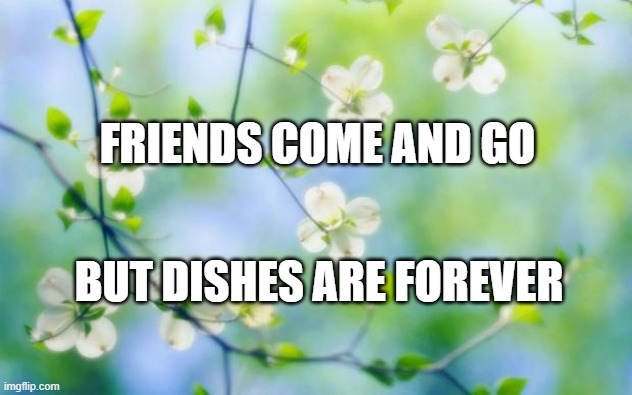 If there's one thing I hate in life, it's chocolate-covered raisins. Such deception!
A close second, however, is housework.
Dishes, tidying up, laundry, vacuuming, dusting, toilets, mirrors, counters, beds, shelves, drapes, dishes, windows, cooking, laundry, showers, mopping, dishes, and laundry -over and over in a neverending cycle!!
Growing up with chores, I knew my parents assigned them out of a sadistic sense of selfishness. When I'm older, I vowed, I am never doing jobs!
I haven't quite checked that one off my bucket list.
I have learned which tasks I prefer over others. Like, loading a dishwasher or organizing a space instead of putting away clothes. And, I've talked with others who've told me their most- and least-favorite chores. An aunt says she hates vacuuming the floor but my sister loves it.
Which leads to today's obvious question: do you think chocolate-covered raisins are an abomination?
All right, all right. Do you have a household task you're fond of? What about one you despise?
—————-
Voilà! The posts of the week we had:
Wednesday, January 12: "Ya Know What I Mean?," wherein we discussed irritating idiosyncrasies.
Thursday, January 13: The love story of "Beatrice Box."
Friday, January 14: "Foremost, Facts are Freeing" for Pensitivity's Three Things Challenge.
Saturday, January 15: Friday Photo.
Sunday, January 16: Internet quote.
Monday, January 17: "I'm a Mormon, So I Don't Drink Coffee."
Tuesday, January 18: "To Be Readtinued," in answer to D. Wallace Peach's writing prompt.
Matt of A Prolific Potpourri has been doing audio performances of my Wilhelmina Winters series. He does them once a month for Short Story Saturday and they are excellent. Go listen!!
©2022 Chel Owens