Hello, there! Feeling depressed? I'm here to offer you a little encouragement.
Perhaps you are familiar with James Edgar Skye's favorite life maxim: Always keep fighting.
What does that mean, exactly? Is he encouraging site visitors to violence? I'm sure you all know that's not the answer. Despite your astute intelligence, however, do you keep fighting?
Or, are you in my preferred category of fence-sitting numbness?
Worse yet, are you all alone, hiding from everything except the dark recesses of your mind?
That is no way to fight.
Don't roll your eyes at me; you're the one practicing bad habits. …Yes, I intend to get dressed and eat something besides these cookies. Yes, I'm wearing exercise clothes because I'm going to do something more aerobic than climb the step stool to reach another package of cookies.
Hmm. Maybe we both need to step up our game.
Way back in January of this year I revealed the most secret of secrets: The Cure for Depression. Over the next few weeks I then discussed the secret steps involved.
In fact, last time I wrote about figuring out what's helping and sticking with it.
Are you still not trying any of these?
Again, that's no way to fight.
Fight is an action verb, and not one like "yawn," or "scratch." Think about what you picture when someone says, "Fight." It's not a person laying amidst packages of desserts, feebly raising a hand to scroll through this article and resolve to think about trying something tomorrow.
It's pride.
It's power.
It's a bad-ass mother who won't take no crap off of nobody!!!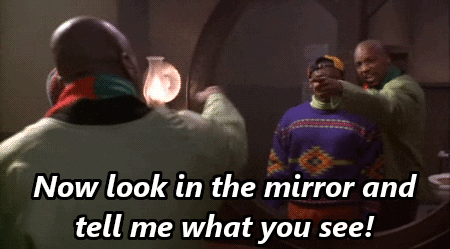 The "nobody" we depressive types need to address is most often ourselves.
Think of how you would get ready for a physical fight. Besides psyching yourself up with a little mirror speech (which, by the way, is like Cognitive Behavioral Therapy), you place your feet and hands in a defensive stance. Given time to prepare, you might wear protective clothing, train with a professional, and bring something besides air to smack the enemy with.
D'ya see the correlation? Your daily, healthy practices arm you for the fight against depression: a fight with your own, flawed mind.
It's a battle we face every day, but one that is easier if we're prepared. After following the recommended steps, that battle doesn't even happen some days. Isn't that worth fighting for?
Yes, it is. Now, get out there. Keep fighting.
Never give up. Never surrender.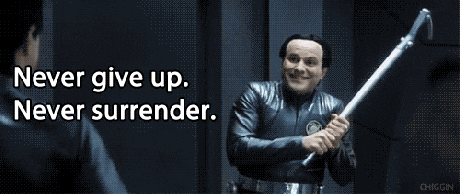 Photo credits:
Whitney Wright
And Giphy.
*Chelsea Owens is not a licensed anything, except a Class D driver in her home state, and shares all information and advice from personal experience and research.